When it comes to choosing the ideal materials for home construction and renovation, one often thinks about durability, aesthetics, and sustainability. While tropical hardwood soffits may not be the first choice for some, they offer several advantages that make them a viable option in any climate, including colder regions such as Alberta. Read on to find out the benefits of using tropical hardwood soffits and how they can enhance both the beauty and functionality of your home, regardless of the climate.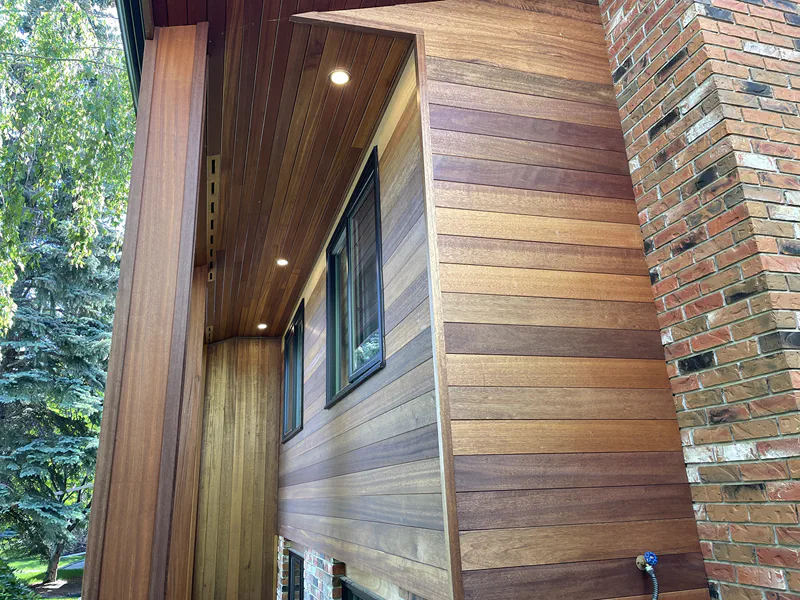 Are you looking to add a touch of elegance and durability to your home's exterior? Kayu is proud to offer an extensive selection of tongue and groove (T & G) Yellow Balau Bangkirai (YBB) soffits.YBB soffits are an exceptional choice for your home, offering both aesthetic appeal and long-lasting performance.
Top 6 reasons why Tropical hardwood soffits are the way to go!
1. Durability and Longevity:
One of the key advantages of tropical hardwood soffits is their exceptional durability. Tropical hardwood species, such as Yellow Balau Bangkirai, possess natural properties that make them resistant to rot, insects, and decay. These woods are renowned for their dense grain structure, high oil content, and natural resistance to moisture, which enable them to withstand harsh weather conditions.
In colder climates where freezing temperatures and excessive moisture are common, tropical hardwood soffits are particularly advantageous. They are less prone to warping, cracking, or splitting, compared to other materials like softwood or composite alternatives. This resilience ensures that your soffits will remain intact, maintaining their structural integrity and aesthetic appeal for many years.
2. Thermal Insulation & Energy Efficient:
While some may assume that tropical hardwoods are not suitable for colder climates due to their origins in warm regions, these woods offer surprising thermal insulation properties. The dense nature of tropical hardwood species allows them to retain heat, acting as a natural barrier against cold temperatures.
By installing tropical hardwood soffits, you can improve the energy efficiency of your home. These soffits help regulate indoor temperature by reducing heat loss and preventing cold air infiltration. This insulation effect can lead to lower heating costs and increased comfort during the winter months.
3. Resistance to Moisture and Decay:
Tropical hardwoods naturally resist moisture, making them an excellent choice for areas with high humidity or precipitation, including colder climates with snowfall. These woods have a low moisture absorption rate, which prevents swelling, warping, or decay caused by excessive moisture exposure.
In colder regions, where snow and ice can accumulate on soffits, tropical hardwoods' natural resistance to decay becomes even more valuable. The inherent properties of these woods make them less susceptible to moisture-related damage, ensuring their longevity and reducing the need for frequent maintenance or replacement.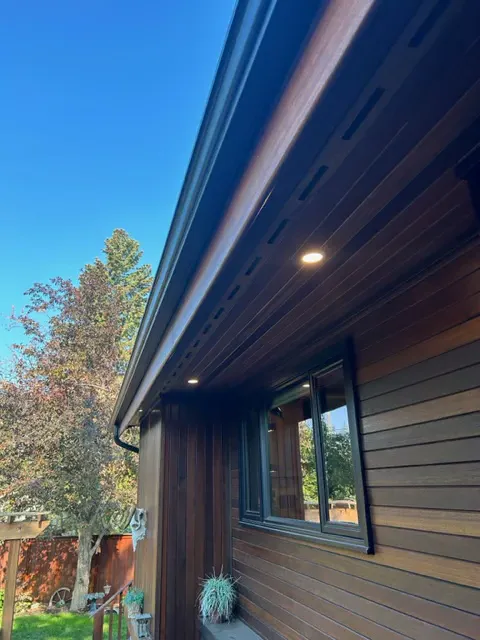 One of the primary reasons why YBB soffits are an excellent option for your home is their exceptional durability. Yellow Balau Bangkirai is a hardwood species known for its high density, natural oils, and resistance to rot, decay, and insect infestations. These inherent properties make YBB soffits highly resistant to the elements, ensuring they can withstand harsh weather conditions and retain their structural integrity for years to come.
Whether you live in a region with intense heat, heavy rainfall, or even freezing temperatures, YBB soffits provide reliable protection against environmental stresses. This durability minimizes the need for frequent maintenance, saving you time and money in the long run.
4. Curb Appeal:
Apart from their functional advantages, tropical hardwood soffits also offer unparalleled beauty and aesthetic appeal. With their rich, warm colors, natural patterns, and smooth finishes, these woods add a touch of elegance and sophistication to any home, regardless of the climate.
Tropical hardwood soffits can complement various architectural styles, from traditional to contemporary, and can be customized to suit your specific design preferences. Whether you desire a rustic look or a more modern aesthetic, these versatile materials can be stained, painted, or left to weather naturally, providing endless possibilities for enhancing your home's curb appeal.
Yellow Balau Bangkirai (YBB) is a tropical hardwood species known for its stunning visual appeal. The warm golden hues, natural grains, and rich textures of YBB soffits create a luxurious and inviting atmosphere for your home's exterior. Whether you have a modern or traditional architectural style, these soffits effortlessly enhance the overall aesthetics, becoming a standout feature that adds value to your property.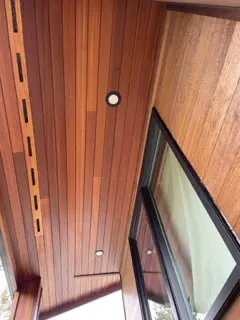 YBB soffits can be easily customized with various finishes, such as stains or sealants, to suit your design preferences. Whether you prefer a natural, rustic look or a sleek, contemporary finish, YBB soffits offer the flexibility to achieve your desired aesthetic vision.
5. Enhanced Stability:
Tongue and groove construction is a key feature of YBB soffits, which offers significant benefits for your home. The precise interlocking design provides enhanced stability and strength to the soffits, preventing warping, twisting, or gaps that can compromise the appearance and functionality of the installation.
The tongue and groove system also allows for easy installation, creating a seamless and uniform look. The precise fit ensures that your soffits remain securely in place, even during extreme weather conditions, further enhancing the longevity and performance of your home's exterior.
6. Sustainable Choice:
In addition to their aesthetic and functional qualities, YBB soffits are an environmentally friendly choice. Kayu is committed to sustainable practices, sourcing YBB from responsibly managed forests. By choosing YBB soffits, you are supporting the preservation of tropical forests and promoting the use of renewable resources.
Yellow Balau Bangkirai is a long-lasting material, reducing the need for frequent replacements. It is also a low-maintenance option, minimizing the use of chemicals or harsh treatments over time. By investing in YBB soffits, you contribute to a greener future while enjoying the beauty and benefits they offer.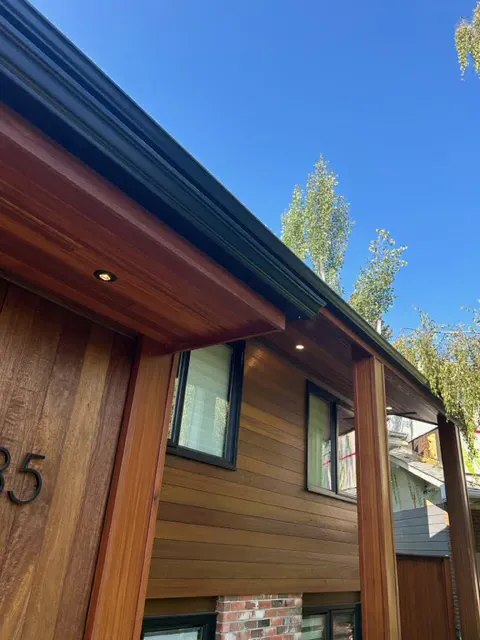 Contrary to popular belief, tropical hardwood soffits can be a smart choice for any climate, including colder regions. Their exceptional durability, thermal insulation properties, resistance to moisture and decay, as well as their timeless beauty, make them a reliable and attractive option. By opting for tropical hardwood soffits, you can create a visually appealing, long-lasting, and energy-efficient home, irrespective of the climate in which you reside.
If you're seeking a sophisticated and durable option to enhance your home's exterior, tongue and groove Yellow Balau Bangkirai (YBB) soffits are an excellent choice. Their exquisite beauty, exceptional durability, enhanced stability, and sustainability make them a standout option for any homeowner. By choosing YBB soffits, you can transform your home's appearance while enjoying long-lasting performance that withstands the test of time.
Contact Kayu today to explore our extensive selection of YBB soffits and
elevate your home's exterior to new heights of elegance and functionality.